Fraser-Winter Park, CO (WIP)
With an annual mean temperature equal to the freezing mark, Fraser is a popular stop for those headed to the Winter Park ski area south of town—one of the largest in Colorado.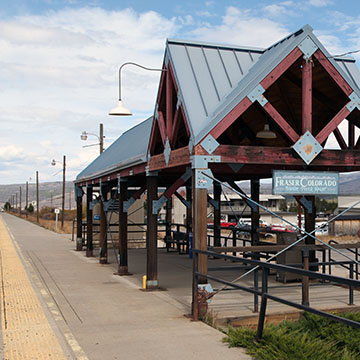 205 Fraser Avenue
Fraser, CO 80442
Annual Ticket Revenue (FY 2020):
$545,016
Annual Station Ridership (FY 2020):
8,042
The heated shelter in Fraser was originally built in the late 1980s by the town of Fraser, the Winter Park ski area and the Anderson family, the facility owners. A separate building located close to the shelter serves as the offices for the Andersons and as an enclosed waiting area for the passengers.
The town of Fraser is referred to as the "Icebox of America" because its winter temperature may reach as low as -50°F.
A free year-round shuttle is provided to/from the Winter Park Ski Resort, located six miles from this station and one of the largest ski areas in Colorado. Winter Park Mountain first opened in 1940 and accommodated weekend skiers and summer vacationers. The area became developed in the early 1970s and the village of Winter Park became incorporated in 1978. Winter Park Mountain is home to the National Sports Center for the Disabled, one of the largest recreational and therapeutic skiing programs for people with disabilities.