Fraser-Winter Park, CO (WIP)
With an annual mean temperature equal to the freezing mark, Fraser is a popular stop for those headed to the Winter Park ski area south of town—one of the largest in Colorado.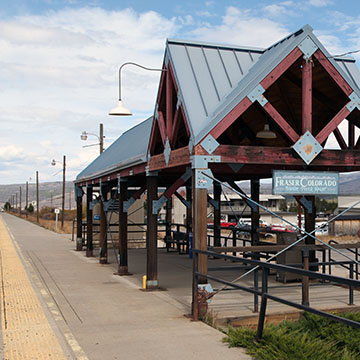 205 Fraser Avenue
Fraser, CO 80442
Annual Station Revenue (FY 2019):
$683,779
Annual Station Ridership (FY 2019):
10,152
Facility Ownership: Ronald M. Anderson, Union Pacific Railroad
Parking Lot Ownership: Union Pacific Railroad
Platform Ownership: Union Pacific Railroad
Track Ownership: Union Pacific Railroad
Rob Eaton
Regional Contact
governmentaffairssea@amtrak.com
For information about Amtrak fares and schedules, please call 1-800-USA-RAIL (1-800-872-7245).
The heated shelter in Fraser was originally built in the late 1980s by the town of Fraser, the Winter Park ski area and the Anderson family, the facility owners. It was recently renovated. A separate building located close to the shelter serves as the offices for the Andersons and as an enclosed waiting area for the passengers. In 2011, as part of the Mobility First initiative of the American Recovery and Reinvestment Act of 2009, the Fraser station received a new wheelchair lift.
The town of Fraser is referred to as the "Icebox of America" because its winter temperature may reach as low as -50°F.
A free year-round shuttle is provided to/from the Winter Park ski resort, located six miles from this station and one of the largest ski areas in Colorado. Winter Park Mountain first opened in 1940 and accommodated weekend skiers and summer vacationers. The area became developed in the early 1970s and the village of Winter Park became incorporated in 1978.
Winter Park Mountain is home to the National Sports Center for the Disabled, one of the largest recreational and therapeutic skiing programs for people with disabilities.
Amtrak does not provide ticketing or baggage services at this facility, which is served by two daily trains.