Fraser-Winter Park, CO (WIP)
With an annual mean temperature equal to the freezing mark, Fraser is a popular stop for those headed to the Winter Park Resort south of town—one of the largest in Colorado.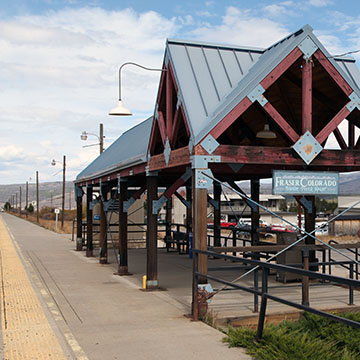 205 Fraser Avenue
Fraser, CO 80442
Annual Ticket Revenue (FY 2022):
$510,226
Annual Station Ridership (FY 2022):
6,466
The passenger shelter in Fraser was originally built in the late 1980s by the town of Fraser, the Winter Park ski area and the Anderson family, the facility owners. A free year-round shuttle is provided to/from the Winter Park Resort, located six miles from this station and one of the largest ski areas in Colorado.
Winter Park Mountain first opened in 1940 and accommodated weekend skiers and summer vacationers. The area was developed in the early 1970s, and the village of Winter Park became incorporated in 1978. Winter Park Mountain is home to the National Sports Center for the Disabled, one of the largest recreational and therapeutic skiing programs for people with disabilities.
Since 2017, Amtrak, through a partnership with the Winter Park Resort, has offered seasonal train service to a stop nestled at the base of the slopes. Known as the Amtrak Winter Park Express, the train offers a direct connection between the resort and Denver Union Station during the popular winter sports season.
The town of Fraser is referred to as the "Icebox of America" because its winter temperature may reach as low as -50°F.