Tuscaloosa, AL (TCL)
Located south of downtown, the Tuscaloosa depot sports a romantic castle-like bay with deep corbelling and a conical roof topped by a finial.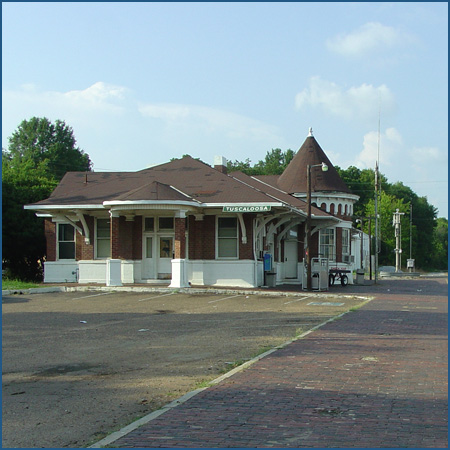 2105 Greensboro Avenue
Tuscaloosa, AL 35401
Annual Ticket Revenue (FY 2022):
$514,785
Annual Station Ridership (FY 2022):
5,389
The one story brick Tuscaloosa station, located about a mile south of downtown, was built in 1911 for the Southern Railway as a replacement for a depot erected in 1873. In addition to an Amtrak waiting room, the station has office space occupied by Norfolk Southern Railway.
In May 2012, the Ceres Garden Club completed a cosmetic improvement project at the station in conjunction with the city's Greensboro Avenue Beautification project. The garden club planted new shrubs and flowers, removed debris, painted the station and erected a flag pole. Amtrak installed new exterior benches and rebranded the signage on the depot.
Tuscaloosa, also the seat of Tuscaloosa County, sits on the Black Warrior River. The city was named after the Chocktaw chieftain, Tuscaloosa, which means "black warrior". The river shoals in this area of western Alabama were the southern-most reliable ford on the river, and thus the natural convergence of many trails from early times.
After the War of 1812, settlements began to emerge near the Creek village at the river's fall line. In 1817, Alabama became a territory and on December 13, 1819, the territorial legislature incorporated the town of Tuscaloosa, one day before Alabama was admitted to the union as a state. From 1826 to 1846, Tuscaloosa served as Alabama's capital. The University of Alabama was established there in 1831, as well as the Bryce State Hospital in 1850. During the American Civil War, a brigade of Union troops raiding the city burned the university campus, along with the damaging much of the rest of the city. Due to the abundance of oaks and hardwoods in the area, Tuscaloosa gained the nickname "Druid City" during the war.
A system of locks built on the Black Warrior River in the 1890s opened up an inexpensive means of transport to the Gulf seaport at Mobile, stimulating the mining and metallurgical industries in the region. Together with the University of Alabama and expanding high-quality mental health facilities in the city, Tuscaloosa saw prosperity through much of the next century. Manufacturing plants for firms such as Michelin, JVC, and Mercedes contributed to its economic advancement, though Tuscaloosa remains largely a college town.
Tuscaloosa was the source of a joke in the 1931 Marx brothers film Animal Crackers, as Groucho Marx explained why it's better to shoot elephants in America than Africa: "As I say, we tried to remove the tusks. Of course in Alabama the Tuscaloosa, but that is totally irrelephant to what I was saying."
Station Building (with waiting room)