Springfield, MA (SPG)
Opened in 1926, Springfield Union Station today is a busy intermodal center served by Amtrak, CTrail commuter trains and local and intercity buses. Passengers enjoy a bright and airy concourse ringed with retail, while the upper floors have been transformed into leasable office space.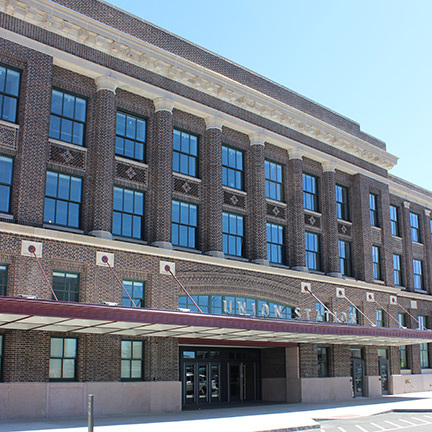 55 Frank B. Murray Street
Springfield, MA 01103
Annual Ticket Revenue (FY 2022):
$2,692,220
Annual Station Ridership (FY 2022):
112,712
Springfield Union Station was opened by the Boston and Albany Railroad (B&A) in 1926. In June 2017, the people of Springfield gathered to celebrate Union Station's extensive rehabilitation—a project three decades in the making. Union Station—now a bustling intermodal center—is used by customers of Amtrak, CTrail commuter trains, Pioneer Valley Transit Authority (PVTA) buses and intercity buses. In June 2019, Amtrak fully moved its operations into Union Station after vacating a small structure from 1994 that sat opposite the station at track level.
The CTrailHartford Line launched in June 2018 and was made possible through the New Haven-Hartford-Springfield (NHHS) Rail Project, a partnership between the state of Connecticut, Amtrak and the Federal Railroad Administration, as well as the states of Massachusetts and Vermont. This multi-year effort has aimed at creating new commuter and enhanced intercity passenger rail services benefiting the cities along the New Haven-Springfield rail line. CTrail Hartford Line trains complement Amtrak service to offer travelers greater flexibility and choice.
Overall, the NHHS Rail Project has included improvements to track and signal systems, upgrades to bridges, culverts and at-grade crossings, installation of a second track, and renovation or construction of stations. As of early 2018, the estimated $1.2 billion program had received $564 million in state funding and $205 million through federal sources, including the American Recovery and Reinvestment Act of 2009. Connecticut intends to seek additional federal and state funding for future program phases.
Designed by the successors to the firm of Shepley, Rutan and Coolidge, who had also designed Boston's South and North stations as well as Albany Union Station, Springfield Union Station is representative of their symmetrical Richardsonian Romanesque style, constructed in decorative brick and stone. It was the third such station to serve the city. When it was built, Union Station served the many rail lines that passed through this industrial city including the Hartford and Springfield Railroad; New York, New Haven and Hartford Railroad; and the Boston and Maine Railroad. The original complex incorporated at least eight through and terminating tracks, large passenger waiting area, concourse, fully equipped freight and express facility, and integrated interlocking control tower for signals and switches. Since the tracks run through this part of town on a viaduct above street level, passengers then and now must ascend to an upper level to access trains.
The station was shuttered in 1973 and subsequently boarded up, as was the three-story baggage house across the rail yard. In 1989, the Springfield Redevelopment Authority (SRA) acquired the station for $1 from private owner David Buntzman by means of eminent domain. A revitalization project was initiated by then-Mayor Richard Neal. However, early efforts to remodel were halted when the neighboring Charles Hotel burned down.
City leadership had long envisioned Union Station as a focal point for both transportation and urban redevelopment. In 2007, the state Executive Office of Transportation (EOT) awarded the PVTA and the city a $350,000 grant to create a new development plan for Union Station; $37 million in federal funds were already earmarked for the project, $7 million of which was spent to stabilize the building, including asbestos removal and installation of a new roof. By October 2008, local, state and federal officials had unveiled a plan to create a sustainable and state-of-the-art intermodal transportation center.
In June 2009, PVTA and SRA drew up an agreement to create a new entity to manage the project, with the latter serving as the supervising agency. A temporary freeze on the federal funding intended for the Union Station project was lifted in July 2010, and plans for the intermodal center began to move forward. Massachusetts Governor Deval Patrick joined U.S. Representative Richard Neal and Mayor Domenic Sarno and other local officials to kick-off construction in November 2012. HDR Architecture Inc. of Boston served as the lead architect, while Skanska USA Building Inc. oversaw construction.
Work included the restoration of the station's first floor, which features a bright and airy concourse, outfitted with gleaming terrazzo floors and abundant natural light, and spaces for retail and food service; removal of the adjacent baggage building to allow for the construction of a 26-bay bus terminal and garage; restoration of the passenger tunnel between Union Station and the platforms; creation of new vertical access points—stairs and elevators—between the tunnel and the platforms; and outfitting of leasable office space on the building's upper floors.
During the project, original station features such as a train board and the clock overlooking the concourse were restored. Complementing these historic artifacts is a series of new murals by local artist Ed Pessolano. Located throughout the station's public areas, they tell the history of Springfield and Union Station. As the station project neared completion, the Springfield Preservation Trust recognized the SRA for the quality of the Union Station rehabilitation.
The intermodal facility project cost more than $94 million, with $43.6 million provided through federal sources including the Federal Transit Administration's Bus and Bus Facilities and Bus Livability grant programs and the Federal Highway Administration's Congestion Mitigation and Air Quality Improvement program. The Commonwealth of Massachusetts contributed $44.7 million through matches to federal grants, the MassWorks Infrastructure Program, MassDOT Transportation Bonds and other sources. Springfield provided $5.8 million, primarily through city bonds.
The city's origins are based upon its location at a crossroads. William Pynchon of the Massachusetts Bay Colony led a company of explorers to the confluence of the Connecticut and Agawam Rivers, establishing their settlement in 1636, and incorporated it as Springfield, in honor of Pynchon's English birthplace, in 1641. Springfield prospered as the Connecticut River provided a means of transportation north and south, as well as power; the east-west road between New York and Canada also ran through Springfield.
The area's industries excelled in metal craft, given proximity to the New York state iron mines and easy transportation. The U.S. Army Armory was thus established in Springfield in 1794, the site selected by President George Washington, because the town was located at the intersection of major highways and the Connecticut River but far enough upstream to be safe from enemy attack. Supplies, skilled manpower and adequate waterpower for manufacturing were all close at hand.
The Armory quickly became a center for invention and industrial development. The storied "Springfield rifle" came about thusly, as well as the Garand semi-automatic rifle. In 1968, Secretary of Defense Robert McNamara closed the Springfield Armory in a controversial move. The site is now a museum run by the National Park Service, as the Springfield Armory National Historic Site. Some of the Armory buildings house Springfield Technical Community College.
West Springfield, across the Connecticut River, became an industrial and rail transport hub, beginning with the coming of the Western Railroad in 1841; it became the Boston and Albany in 1870. Rail repair shops were also built in West Springfield in 1896. At the peak of its operations, there were two large rail yards. The plentiful rivers and streams in the area also led to founding a number of paper companies in West Springfield, including Strathmore Paper (originally the Mittineague Paper Company, 1892), and Southworth Paper Company.
West Springfield was also an agricultural center. The first Morgan Horse was bred in West Springfield in 1790. By 1860, this sister-city was a center of greenhouse production, exporting fresh produce to Boston, a practice which continued into the 1940s.
From 1901 to 1953, Springfield's factories also manufactured another American favorite, the Indian Motorcycle. During the 1910s, Indian became the largest manufacturer of motorcycles in the world. Indian's most popular models were the Scout, made from 1920 to 1946, and the Chief, made from 1922 to 1953. The Indian Motorcycle Manufacturing Company went bankrupt in 1953. A number of successor organizations have perpetuated the name in subsequent years, as Indian Motorcycles remain sought-after collectors' items.
Springfield today is a major economic center in New England, with the greatest concentration of retail establishments in the area. The city is home to the largest Fortune 500 company in Massachusetts, Bay State Health, with over 10,000 employees. The city also presents a concentration of institutions of higher learning—three four-year colleges, and in the greater Springfield area, 11 additional universities, including Amherst College, Mount Holyoke College, Smith College, and the University of Massachusetts at Amherst. The combination of hospitals and schools has attracted a number of biotech firms. The city is also home to the western campus of Tufts University School of Medicine, at Bay State Medical Center.
In December of 1891, James Naismith introduced a new game to his class of 18 young men in an otherwise unremarkable gymnasium at the YMCA International Training School in Springfield: basketball. The Naismith Basketball Hall of Fame has honored the game's greatest players and moments since 1959; however it had no physical home until 1968. Since then, the hall has been reinvigorated three times, and in September 2002, the third Hall of Fame saw its much-celebrated grand opening.
Another equally famous American icon comes from this city: in 1904, the German-American Theodor Seuss Geisel was born in Springfield. As he was first a political cartoonist during both World War I and World War II, Geisel began using his mother's maiden name professionally, signing his work simply as "Seuss." History was made for children everywhere when his first illustrated book, And to Think I Saw It on Mulberry Street was published by Vanguard Press in 1937.
The unforgettable The Cat in the Hat began as a project to illustrate a children's primer using only 255 "new reader" vocabulary words; it was published in 1957, and established Geisel as the definitive children's book author and illustrator. At the time of his death in 1991, Geisel had written and illustrated 44 children's books, which have been translated into 15 languages, and provided the inspiration for television specials, a Broadway musical and feature-length motion pictures.
Service between Greenfield, Mass., Springfield, Mass., and New Haven, Conn., is financed primarily through funds made available by the Connecticut Department of Transportation and the Massachusetts Department of Transportation. The Vermonter is financed primarily through funds made available by the Vermont Agency of Transportation, the Connecticut Department of Transportation and the Massachusetts Department of Transportation.
Station Building (with waiting room)