Spokane, WA (SPK)
A city landmark since 1891, the Spokane station is where the Portland and Seattle sections of the Empire Builder are joined (east-bound) or separated (west-bound).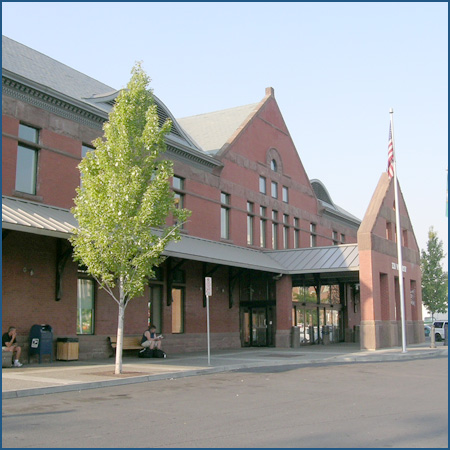 221 West 1st Avenue
Spokane, WA 99201
Annual Station Revenue (FY 2019):
$4,267,664
Annual Station Ridership (FY 2019):
46,802
Facility Ownership: City of Spokane
Parking Lot Ownership: City of Spokane
Platform Ownership: City of Spokane
Track Ownership: BNSF Railway
Rob Eaton
Regional Contact
governmentaffairssea@amtrak.com
For information about Amtrak fares and schedules, please call 1-800-USA-RAIL (1-800-872-7245).
Renovation of the historic Spokane station was completed in 1994 with funding from the city of Spokane, the state of Washington, the Federal Railroad Administration, Greyhound and Amtrak. The station serves as an intermodal facility for local transit services, Greyhound and Amtrak.
Amtrak provides ticketing and baggage services at this station, which is served by two daily trains. At Spokane, the westboundEmpire Builder splits into two sections, with one heading to Seattle and the other to Portland. The eastbound sections from Portland and Seattle join in Spokane and head to Chicago.
Station Building (with waiting room)