Salt Lake City, UT - Amtrak Station (SLC)
Amtrak operates out of a structure at the intermodal transportation center located near the historic Gateway District. The area has been home to railroad functions since the late 1800s.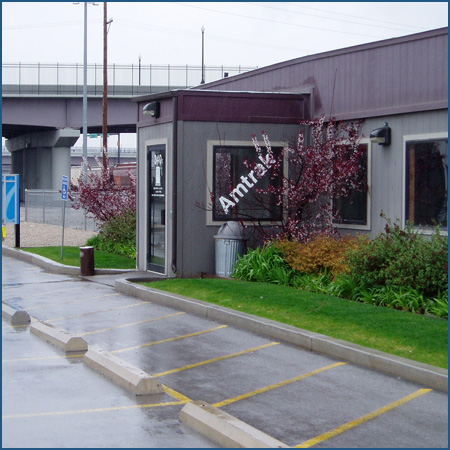 Amtrak Station
340 South 600 West
Salt Lake City, UT 84101
Annual Ticket Revenue (FY 2022):
$4,532,440
Annual Station Ridership (FY 2022):
26,821
Amtrak presently operates out of a modular structure located at the Salt Lake City Intermodal Transportation Center, which serves as a single point of access to all of the area's major transportation systems, including Amtrak, intercity and regional buses, light rail and commuter rail.
The transportation center is very modern in appearance, aimed to complement Salt Lake City's reviving urban landscape. It consists of a long main hall with various airport-style kiosks. The north end of the building also includes a circular raised entranceway. The entire length of the front of the building has large, glass windows going up to the roof with an awning extending over much of the surrounding area to provide shade and protection from the weather. The hub also has the distinction of being Salt Lake City's first Leadership in Energy and Environmental Design (LEED) certified construction project, setting a new standard for energy efficiency leadership in the city's public works.
The center is located close to the city's historic Gateway District, the home for Salt Lake City's railroad lines, yards and depots since the late 1800s. Those sites, including the old Union Pacific Rail Depot, have now been redeveloped from brownfields into a mixed-use complex that has re-energized that neighborhood and the city's economy.
Salt Lake City was founded as Great Salt Lake City by Mormon pioneers led by Brigham Young in 1847. Those Mormons, who have since played a large role in the city and state's government and culture, fled to what became Utah to escape persecution and intolerance in the Eastern United States. In addition to being one of the oldest cities in the region, it is also now the headquarters of the Church of Jesus Christ of Latter-day Saints.
The town grew as mining and railroads were established in the region and the United States continued expanding westward. The city became such an important part of the journey west and such an important transportation center that it was nicknamed the "Crossroads of the West". Its connection to the Transcontinental Railroad in 1870 only fueled the city's prominence.
In the late 20th century, the city developed a significant tourism industry, and in 2002, it hosted the Winter Olympics.
Station Building (with waiting room)