Quincy, IL (QCY)
The Quincy station, opened in 1985, was designed to look like a streetcar depot from the early 1900s. Quincy is a busy commercial center serving residents of Illinois, Missouri and Iowa.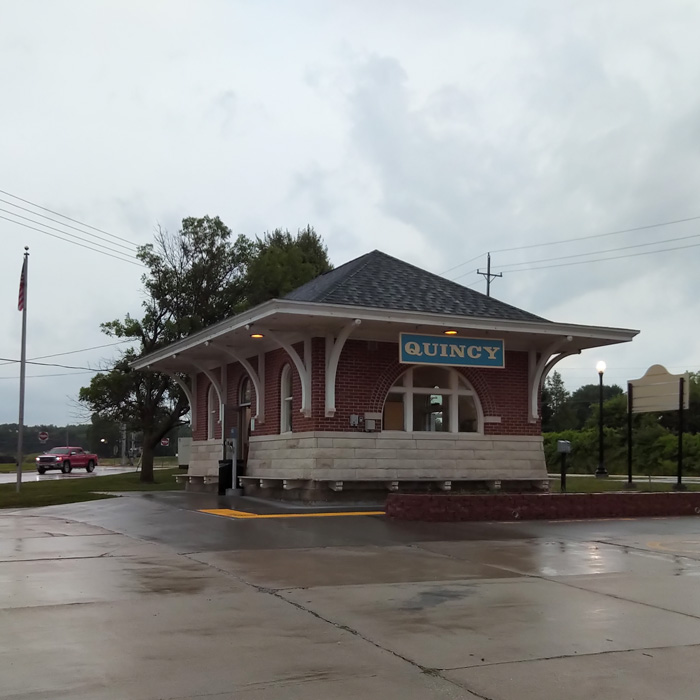 North 30th Street and Wisman Lane
Quincy, IL 62301
Annual Station Revenue (FY 2019):
$1,266,789
Annual Station Ridership (FY 2019):
37,527
Facility Ownership: City of Quincy
Parking Lot Ownership: City of Quincy/Ruth M. Waterkotte Revocable Trust
Platform Ownership: BNSF Railway
Track Ownership: BNSF Railway
Derrick James
Regional Contact
governmentaffairschi@amtrak.com
For information about Amtrak fares and schedules, please call 1-800-USA-RAIL (1-800-872-7245).
The Quincy station was opened in 1985 and is designed to look like a local streetcar depot from the early 1900s, such as the one standing a few miles west at the state-owned Illinois Veterans Home. The city of Quincy funded the nearly $18,000 cost of the land acquisition and architectural fees, while Amtrak and the Illinois Department of Transportation divided the remaining $92,000 cost of the building and an 18-space parking lot.
Since then, the city has twice expanded the parking lot by leasing and paving adjoining land, with the lot continuing after each expansion to overflow with Amtrak customers. This small, unstaffed station opens and closes on a time lock for passengers. When trains are behind schedule, the city has been known to send out personnel to apprise waiting passengers of the delay.
In July 2010, the state awarded Quincy $6 million for the design and construction of a new intermodal transportation center that would bring together intercity passenger rail and local and regional bus services in one location. The money came through "Illinois Jobs Now!", a six year, $31 billion statewide capital program supported by 20-year state bonds and federal and local matching funds. A couple of locations in the downtown area have been proposed, and the city is working to identify additional monies to fund the project in full.
Prior to 1985, passengers boarded at a temporary station in a warehouse parking lot six blocks west, which was established after the West Quincy, Mo., station was repeatedly inaccessible due to flooding. The West Quincy station, behind a levee across the Mississippi River from Quincy, had served as the city's station since it was built by the Chicago, Burlington & Quincy Railroad (CB&Q) in 1953. The development of Amtrak facilities on higher ground in Illinois proved wise, as the West Quincy station was wiped out in 1993 during what is locally still called "The Great Flood."
A massive bridge across the Mississippi River at Quincy was first built by CB&Q in 1868, completing that portion of what came to be called "The Q," with connecting tracks to the city's first riverfront passenger and freight terminals, which had opened four years earlier. By 1870, Quincy temporarily surpassed Peoria as the second largest city in the state and outgrew the railroad facilities built in 1864.
By 1899, CB&Q built a larger station at Second and Oak streets, two blocks east of the river, topped by a tall tower overlooking the Mississippi. A miniature train served as a weathervane atop the tower. This station, a freight terminal and engine house were used by "The Q" until the West Quincy station was opened 54 years later. This enabled passenger trains to go directly across the Mississippi on a new river bridge and without a delay-prone back-up move down to the Quincy station. By 1962, much of the CB&Q riverfront property in Quincy was demolished, with a remnant of the freight terminal converted into a warehouse and still in use today.
Quincy is the largest city within 100 miles in all directions, a micropolis with a tri-state trading area that includes northeast Missouri, western Illinois and southeast Iowa. Vehicles with license plates from all three states are commonly found in the Quincy station's parking lot.
Sited on a large bay, the area was once home to the Sauk, Fox, and Kickapoo tribes of Native Americans. In 1818, John Wood came west from Moravia, N.Y., and settled in Illinois' Military Tract, purchasing 160 acres on the river bluffs. In 1825, Quincy became the county seat, the town and the county both named for then-president John Quincy Adams. John Wood went on to become governor of Illinois and the local community college is named for him.
Although the town was originally settled by arrivals from New England, in 1840 they were joined by a wave of German immigrants. The German heritage of the town is still celebrated.
During the winter of 1839, 5,000 members of the Church of Jesus Christ of the Latter Day Saints, the Mormons, took refuge in Quincy when evicted from Missouri. From there, Joseph Smith then led his followers 40 miles north to Nauvoo. The Mormons were later driven west to establish Salt Lake City, Utah, but a replica of their temple was erected by the Church and hosts pilgrimages and private observances today.
Quincy served as another refuge at about the same time by serving as a stop on what was a "railroad" in name only. Quincy was the first Underground Railroad station for African Americans escaping enslavement across the border in Missouri. Dr. Richard Eells, an abolitionist, built a home in 1835 four blocks from the Mississippi River. In 1842 Eells was caught helping an escaped slave, Charley, from Monticello, Mo. Charley was brought to the Eells house by a free African American, Barryman Barnett, who had spotted Charley swimming across the Mississippi River. While transporting Charley to Quincy's Mission Institute, a safer hiding place, Eells came across a posse looking for Charley. Charley fled, on Eells's advice, and was later found and returned to Missouri. Eells returned home where he was shortly arrested and charged with harboring and secreting a fugitive slave under the Illinois Criminal Code. Judge Stephen A. Douglas heard the case in April 1843 and handed down a $400 fine, which Eells appealed. Eells lived here until his death in 1848, and a preserved portion of the home remains within the Downtown Quincy Historic District.
In 1858, the sixth debate between Douglas and Abraham Lincoln was held in Quincy's town square; Lincoln lost that race for the Senate. However, during the 1860 presidential campaign, Quincy provided support for Lincoln and other Republican candidates and has preserved the debate location for the staging of re-enactments.
The city has also held onto its German heritage while cultivating the performing arts, and is home to a symphony orchestra, community theater and opera company. In the 1990s, Quincy was known as a skydiving center and it hosted the World Freefall Convention during that decade. Today it hosts other events, including riverfront Fourth of July fireworks spectacles, a Dogwood Festival, U.S. Catfish Anglers Tournament and regional sports competitions.
Quincy was not on the original map when Amtrak took over passenger train operations on May 1, 1971. Civic leaders from Quincy and Macomb, encouraged by Quincy University (then Quincy College) and Western Illinois University, had filed a federal suit to preserve service set to be discontinued on that date by Burlington Northern (the CB&Q successor). While the suit was unsuccessful in contesting the law that established Amtrak or compelling the further operation of what was nicknamed the "Quincy Local," the process prevented an interruption of service by providing time for the state and Amtrak to reach an agreement to fund the route.
Subsequently, the Illinois Zephyr began service on November 4, 1971, as one of Illinois' original state-supported trains and the longest continually state-sponsored train in the Amtrak network. On October 30, 2006, it was joined by the Carl Sandburg, which was added to the route under a major expansion of state-supported Amtrak service in Illinois.
Amtrak does not provide ticketing or baggage services at this facility, which is served by four daily trains. The Carl Sandburg and Illinois Zephyr are financed primarily through funds made available by the Illinois Department of Transportation.
Station Building (with waiting room)