Provo, UT (PRO)
Provo, founded in 1849, is situated at the base of the "Y" mountains, part of the Wasatch Range. A new Amtrak shelter opened in 2002 and is evocative of historic depots across the country.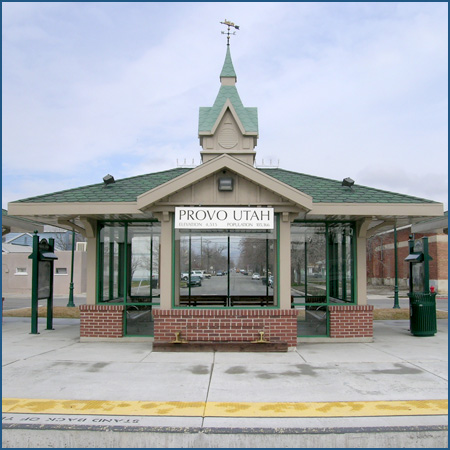 300 West 600 South
Provo, UT 84601-4542
Annual Ticket Revenue (FY 2022):
$583,182
Annual Station Ridership (FY 2022):
4,185
A new shelter opened in Provo in 2002 at a cost of $120,000, which was split between the city, Amtrak and a federal grant. Some Provo city departments provided in-kind contributions. The new structure, made partially of brick, is evocative of depots of the past. It is comprised of three separate shelters with one enclosed and heated. This new depot replaced a historic station that was used mostly by the Union Pacific Railroad.
Originally named Fort Utah, the city of Provo was founded by 33 Mormon families from Salt Lake City in 1849. It was renamed in 1850 for Etienne Provost, a fur trapper and early settler of the area. President James Buchanan sent troops to Salt Lake City in 1858 to put down the "Mormon Insurrection" resulting in thousands of Mormons, including Brigham Young, temporarily relocating to Provo. The population grew even greater when Brigham Young University (BYU) was founded in Provo in 1875.
Provo is still heavily influenced by Mormon culture as the majority of the population identifies with the Church of Jesus Christ of Latter-Day Saints. The community is the political center of the Utah Valley and continues to receive national attention due to the presence of BYU, the largest privately endowed institution of higher education in the United States. It is situated at the base of the "Y" mountains, part of the Wasatch Range.