Port Kent, NY (PRK)
A seasonal stop established in 1977, the Port Kent station operates during the warmer months to serve the Lake Champlain Transportation Company ferry that crosses to Burlington, Vt.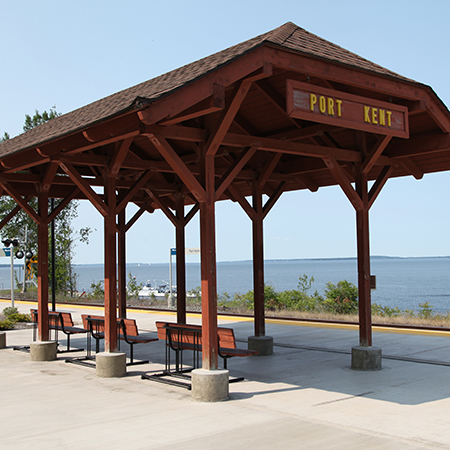 NY 373 and Lake Street
near Burlington-Port Kent ferry dock
Port Kent, NY 12975
Annual Station Revenue (FY 2019):
$19,860
Annual Station Ridership (FY 2019):
402
Facility Ownership: Amtrak
Parking Lot Ownership: D&H Railway Company, Inc.
Platform Ownership: Canadian Pacific Railway Co.
Track Ownership: Canadian Pacific Railway Co.
Bill Hollister
Regional Contact
governmentaffairsnyc@amtrak.com
For information about Amtrak fares and schedules, please call 1-800-USA-RAIL (1-800-872-7245).
The station at Port Kent, a seasonal Amtrak stop established in 1977, consists of a platform and an open-air wooden shelter built in approximately 1989. This stop operates to serve the Lake Champlain Transportation Company ferry that crosses to Burlington, Vt. only during warmer months–generally late May to early October.
Port Kent was first settled by Matthew Adgate of Albany in 1792 via land grant, which extended to and included Ausable Falls, on the Ausable River near Keeseville, where he established mills. The village on the Ausable River was originally called Anderson Falls. The name was changed in 1812 to honor a local manufacturer and businessman, and is named after the Keese family and the early U.S. Congressman, Richard Keese.
The village was built as an industrial area devoted largely to lumber, iron processing and milling. By 1822, Keeseville had grown considerably and the citizens formed a company and built an outlet road to Lake Champlain as well as a wharf on the lake. This location prospered because of the trade the lake crossing brought, and was named for Chancellor Kent of England. It was not until April 4, 1889 that the Keeseville, Ausable Chasm and Lake Champlain Railroad was chartered to run from Keeseville to Port Kent. This short line began operation on May 26, 1890, and discontinued service February 5, 1924.
In 1875-1876, the Delaware and Hudson Company built a one story passenger and freight station at the lakeside at Port Kent. An arcade, much like the shelter standing today, was built in 1911. It is not known when this station building was dismantled.
The Port Kent ferry allows access to the largest city in Vermont, Burlington, which since the early 19th century has been a center for trade in the area. The Ausable River, which reaches Lake Champlain close to the ferry landing, provided industrial power during that century. Logging has long been an industry in this heavily forested area, and the river much used for it. In the 1820s, iron ore was discovered in the Adirondacks, providing the materials for forges and smithies in the region as well as trade. However, by 1890, Keeseville's industrial days were drawing to a close.
In the 1870s, Ausable Chasm, between Keeseville and Port Kent on the Ausable River, became recognized as a unique entity and began to be sought out for its beauty and novelty. The river has made a deep 3.2 mile-long cut through the highly striated Potsdam sandstone at this point, creating rapids, waterfalls, and narrow winding gorges with fascinating rock formations. The gorge, sometimes called the "Grand Canyon of the East," is privately owned and is maintained as a tourist stop. The tour boats that used to run the gorge have since been replaced by rafting tours and tubing.
Also notable are the three historic bridges at Keeseville that cross the Ausable within a half-mile of each other. The Keystone Arch Bridge has carried traffic continuously since its construction in 1843, and is one of the oldest such bridges in the United States. Built by master mason Soloman Townsend, the bridge spanned 110 feet across a fast-flowing river. The Swing Bridge was constructed in 1888, one of a small number of suspension foot bridges built by the Berlin Iron Company of East Berlin, Ct. The Upper Bridge, a rare truss bridge completed in 1878 by Murray, Dougal & Company is an excellent example of the "catalogue bridge" marketed in the U.S. between 1875 and 1910
Service on the Adirondack is financed primarily through funds made available by the New York State Department of Transportation. Amtrak does not provides ticketing or help with baggage at this station, which is served by two daily trains.
Platform only (no shelter)