Ontario, CA (ONA)
Developed as a model colony by four brothers from Ontario, Canada, the town is known for its All-States Picnic, which celebrates the origins of the town's original settlers.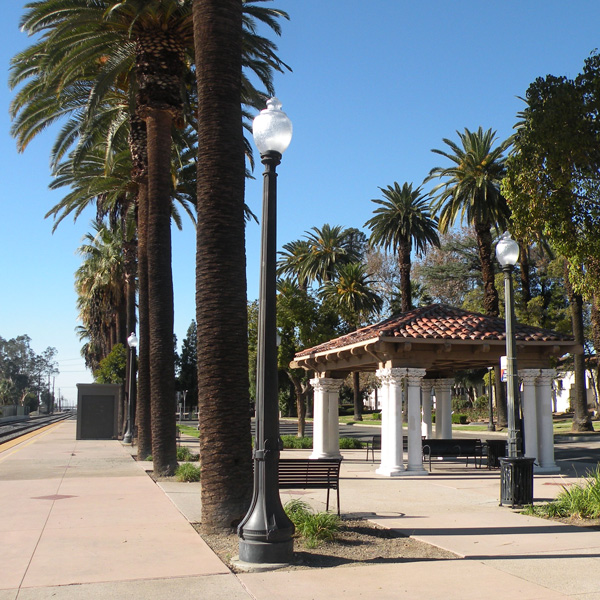 198 East Emporia Street
Ontario, CA 91764
Annual Ticket Revenue (FY 2022):
$430,751
Annual Station Ridership (FY 2022):
3,374
The Ontario Amtrak station consists of a handsome city-built pavilion adjacent to the platform where passengers may sit and wait before they begin their journey. The structure, built in 1991, features corner groupings of pillars that support a red tile roof with deep eaves that provide ample shade. Designed in the Spanish Revival style, the pavilion's architecture harmonizes with many rail stations in Southern California that share common design features.
In reading "Ontario, CA" one might think instead of Canada, and with good reason. Ontario was settled in the 1880s by the four Chaffey brothers, all of whom hailed from the Canadian province which gives the town its name. Prior to the Chaffeys' arrival, the area was the southernmost zone used for hunting and fishing by the Tongva Indians. It is said that the Spanish explorer Juan Bautista de Anza passed through the region in 1774, when he carried out an expedition from present day Tucson, Ariz. to Monterrey, Calif., the capital of Spanish controlled Alta California. In the early 19th century, the site of present day Ontario was folded into the Asistencia San Bernardino, an outpost of Mission San Gabriel.
By 1876, the Southern Pacific Railroad had laid its main line through the area on its way east from Los Angeles. In the 1880s, the Atchison, Topeka, and Santa Fe was also operating a line to the north of the main settlement. The two railroads offered many options for moving both people and produce in and out of the countryside.
In 1881, the four Chaffey brothers purchased the land and water rights near the Southern Pacific tracks for their development. Setting out a grand main thoroughfare with a wide central median planted with pepper, palm, and cypress trees, the town was envisioned as a "Model Colony" which offered residents the benefits of both rural and urban life. Citrus farming predominated, and is even today an important industry in the region; Sunkist once had a plant in Ontario. Olives, grapes, and apricots were also grown. Visitors may go to the Graber Olive House, founded in 1894, to learn all about the olive growing and harvesting process, as well as to sample olive oil produced on site.
One of Ontario's great traditions reflects its diverse origins: the All-States Picnic. Originally conceived in 1939 to celebrate the varied geographic origins of the town's settlers, picnic tables were arranged on the main street and marked with the names of the then 48 states. Today the tradition continues as a sign of civic pride, although most residents are now California born.
Platform only (no shelter)