Kansas City, MO – Union Station (KCY)
With strong regional support and financing, this grand Beaux-Arts masterpiece was rehabilitated to house a variety of museums, shops, restaurants, offices and transportation facilities.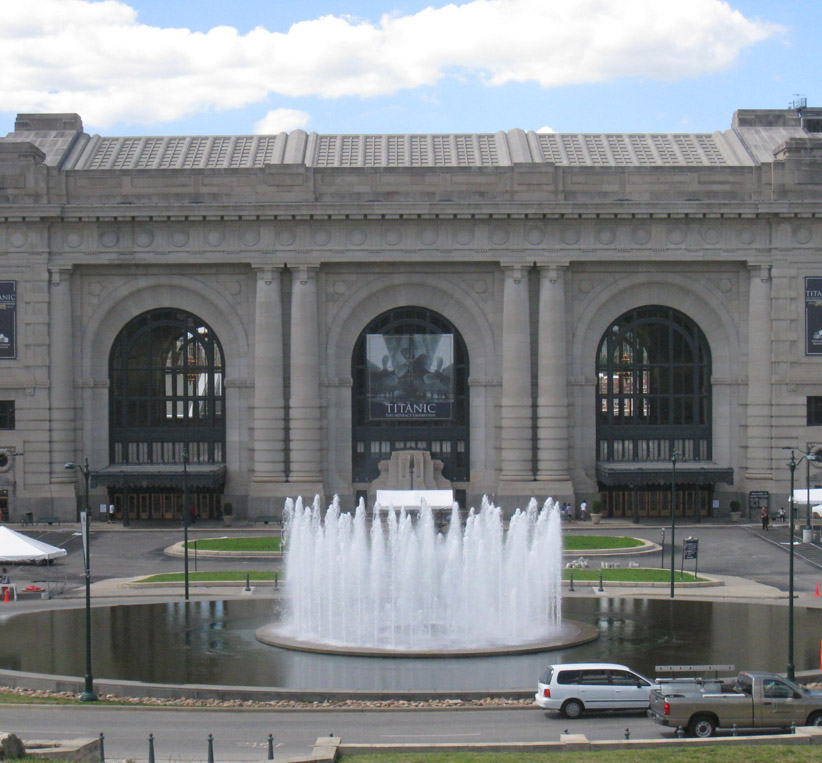 Union Station
30 West Pershing Road
Kansas City, MO 64108
Annual Station Revenue (FY 2019):
$10,331,912
Annual Station Ridership (FY 2019):
153,527
Facility Ownership: Union Station Kansas City, Inc.
Parking Lot Ownership: Union Station Kansas City, Inc.
Platform Ownership: Kansas City Terminal Railway Company
Track Ownership: Kansas City Terminal Railway Company
Derrick James
Regional Contact
governmentaffairschi@amtrak.com
For information about Amtrak fares and schedules, please call 1-800-USA-RAIL (1-800-872-7245).
The Kansas City Terminal Railway, a company formed by the twelve railroads serving the city, built the limestone and granite Kansas City Union Station that we see today. Excavation began in 1911; and on October 30, 1914, Kansas City Union Station opened as the third-largest train station in the country. Designed in the grand Beaux-Arts style, it reflected the city's status as major Midwestern metropolis and a significant passenger and freight rail hub with links to all parts of the nation. The building replaced the original Union Depot in the city's West Bottoms area, which was demolished after a 1903 flood inundated it, thereby convincing city leaders to rebuild on higher ground.
Union Station encompasses 850,000 square feet of space and originally had 900 rooms on 10 levels. The Grand Hall was intended for ticketing, while the North Waiting Hall, extending perpendicularly from the Main Hall and over the railway tracks, served as a passenger waiting area. The ceiling in the Grand Hall soars 95 feet high and from it hang three glittering chandeliers, each weighing 3,500 lbs. A six-foot-high clock hangs from the ceiling at the nexus of the Grand and North Halls. The North Waiting Hall, with its 65-foot ceiling, can contain an assemblage of 10,000 people.
Designed by Chicago architect Jarvis Hunt, a proponent of the City Beautiful movement, the station features a coffered ceiling in the Grand Hall, rose-brown marble floors throughout the main areas, and both light and dark stone facings on the interior walls. Three enormous, deep-set arches mark the facade, rendering the Grand Hall light and airy. More arched windows similarly light the North Hall.
A busy and efficient transportation hub, Union Station has also played a part in the history of American law enforcement. The building was in the national headlines on June 17, 1933, when four unarmed FBI agents were gunned down by gang members attempting to free captured fugitive Frank Nash. The "Kansas City Massacre" resulted in the arming of all FBI agents.
Kansas City Union Station was also home to the headquarters of the Fred Harvey Company between its opening and 1938. Harvey was the initiator of the first national chain of hotels and restaurants—as well as the idea of shops for travelers in the Union Station. Harvey sold his idea of excellent restaurants for travelers to the Atcheson, Topeka, and Santa Fe Railway, which then let Harvey operate restaurants and build hotels along its routes—many of which became the social centers of their towns. Mary Jane Colter became the company's architect and interior designer in the early 1900s and worked out of a studio in Kansas City Union Station. She went on to design buildings such as the Posada Hotel in Winslow, Ariz., and Hopi House in Grand Canyon National Park, among many notable structures.
Through a strong regional initiative, Kansas City Union Station has been revived from a sad state of dilapidation in the mid-twentieth century. At one time in 1917, as many as 300 trains passed through this station; traffic peaked at 79,368 trains that year. In 1945, annual passenger traffic at Kansas City Union Station peaked at 678, 363; but by 1973, with the increase of automotive traffic on the interstate highway system, only 38,842 passengers passed through the station, with only six trains a day.
In 1971, newly-formed Amtrak took over operation of most of the nation's intercity passenger rail services, including those using Kansas City Union Station. Amtrak would vacate the station in 1985, when it moved to a smaller nearby structure in a cost-saving move. Nonetheless, Kansas City Union Station's rich history and structural and design integrity were recognized when it was listed in the National Register of Historic Places in 1972.
Two years later, the Kansas City Terminal Railway and a private developer, Trizec, a Canadian redevelopment firm, made a deal to redevelop the station. Between 1979 and 1986, Trizec constructed two office buildings adjacent to Kansas City Union Station, but did not redevelop the site. In 1988, the city filed suit against Trizec for failure to redevelop the property. The legal battle concluded with the formation of the Union Station Assistance Corporation, which began planning renovation in earnest.
In 1996, residents in five adjacent counties in both Missouri and Kansas approved a 1/8 cent sales tax, part of which funded half of the $250-million restoration project. More funding was also provided by private foundations as well as state and federal grants. Renovations were completed by November, 1999. The Kansas City Museum, as Science City, was a major participant in the restoration. The new science museum occupies the space left by the old train sheds next to the North Waiting Hall.
The new construction faced many challenges, including providing modern spaces and identity for Science City and yet maintaining the terminal's integrity, as well as keeping within budget. This challenge was undertaken by a joint venture architectural team of Ehrenkrantz Eckstut & Kuhn of New York and SmithGroup of Washington, D.C. The architects remained true to Hunt's original vision. Indeed, the restoration team went to great lengths to match colors, shapes and styles of the original plaster and marble. They managed to do this with extensive initial investigation, resulting in a significant cost savings.
Today, Kansas City Union Station provides not only intermodal transportation options, but also serves as a destination in itself, with the large interactive science museum, rail exhibit, Irish museum, five-story Regnier Extreme Screen theater and Gottlieb Planetarium, the Block theater, as well as restaurants, shops and event spaces. Kansas City Union Station is largely self-supporting due to its various partnerships, making it a model for other station rehabilitation projects.
Kansas City has long been a meeting place and transition point; it is located at the confluence of Missouri and Kansas Rivers, and was declared by Lewis and Clark to be a "good place for a fort" when they visited it after the Louisiana Purchase. The first recorded European settler in the Kansas City area was a French fur trader, Étienne de Veniard in the early 18th century; many other fur traders worked out of the Kansas City area in those early years. Throughout the nineteenth centuries, its central location made it an ideal launching place for travelers passing westward on the Santa Fe, Oregon, and California trails, and the city has long been considered a gateway to the American West.
Known first as the City of Kansas, the city was incorporated in 1850 in a 0.70 square-mile area south of the Missouri River, electing the first mayor in February of 1853. The city sits on a landscape of rolling hills and much of it is on 100- to 200-foot bluffs overlooking the rivers and river bottoms. With the building of the Hannibal railroad bridge across the Missouri River in 1869, Kansas City became a central location for 11 trunk railroads.
Today, Kansas City is known for both its particular styles of Blues, steak and barbecue, as well as being the "City of Fountains," having over 200 fountains; indeed, a fountain forms the logo for the city.
Amtrak provides ticketing and baggage services at this station, which is served daily by six trains.
The Missouri River Runner is financed primarily through funds made available by the Missouri Department of Transportation.
Station Building (with waiting room)