Gallup, NM (GLP)
The depot houses the Gallup Cultural Center, which includes a museum dedicated to American Indian culture, an art gallery, visitors' center and commercial space.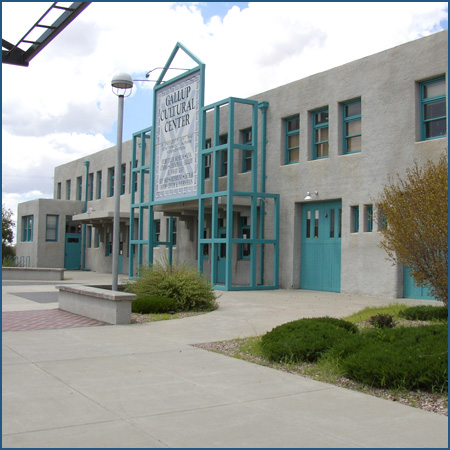 201 East Highway 66
Gallup, NM 87301
Annual Ticket Revenue (FY 2022):
$647,559
Annual Station Ridership (FY 2022):
9,138
The Amtrak station in Gallup is a two-story, stucco-clad building constructed in 1918 to serve as an area headquarters for the Santa Fe Railway, the successor to the Atlantic and Pacific Railroad. In 1923, an adjoining structure was built to house a famed Fred Harvey hotel and restaurant complex known as "El Navajo." Designed by the company's Mary Colter, the hotel was dedicated during a ceremony that included a performance by local Navajo singers and "medicine men." Much of the hotel portion of the building was demolished in 1957 to make way for a widening of U.S. Route 66.
The city of Gallup renovated the old depot in 1996 in order to preserve it. This measure was successful, and the Gallup Cultural Center opened inside the depot that same year. In addition, the building is now home to Gallup's Visitor Center, which relocated to the station in June of 2004; the Southwest Indian Foundation; the Storyteller Museum and Gallery of the Masters; the Kiva Cinema and a coffee shop.
The area was inhabited for centuries by the Navajo, Acoma, Hopi and Zuni tribes. The region was reached by Spanish explorers in 1540, contributing to an expanding ethnic diversity. Centuries later, while the railroads were expanding westward, the Atlantic and Pacific Railroad was built through the area.
In 1880, here is where the railroad located a headquarters for its paymaster, David Gallup. The phrase "going to Gallup" became part of the common lexicon for workers in the area seeking their pay, eventually contributing the name of the city when it was established the following year.
Today, Gallup serves as a tourist area, where those who visit generally come to see and learn about American Indian arts and crafts. There are approximately 110 trading posts, shops and galleries located within the city. It is also the location of the famous Four Corners Region, indicating where Arizona, New Mexico, Colorado, and Utah converge.
Gallup is the only municipality in McKinley County and serves as the county seat with nearly one-third of the county population. The majority of the county's land base is American Indian reservation and more than 70 percent of the population is American Indian. The county is home to portions of the Navajo Nation and the Pueblo of Zuni. Prominent geographic features include the southeastern range of the Chuska Mountains, extensive cliff formations known as the "Red Rocks" and the Zuni Mountains.
Platform only (no shelter)