Ashland, VA (ASD)
Passenger trains travel down a median in Ashland's charming Center Street, which is lined with large shade trees, beautiful historic homes and commercial buildings.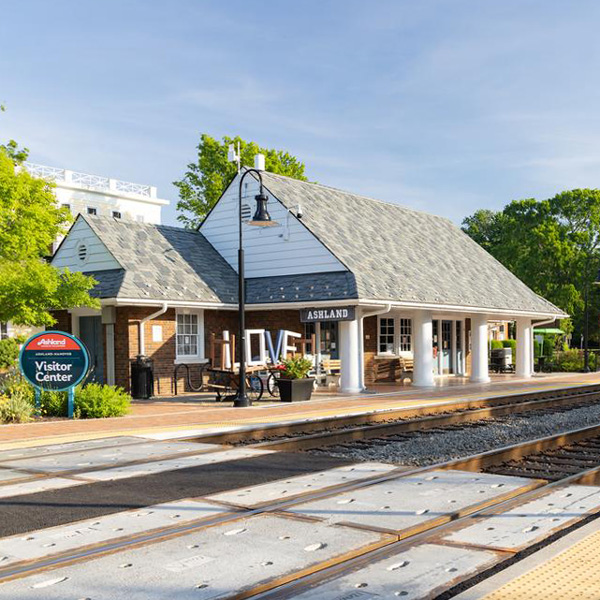 112 North Railroad Avenue
Ashland, VA 23005
Annual Ticket Revenue (FY 2022):
$626,573
Annual Station Ridership (FY 2022):
21,894
The Amtrak station in Ashland consists of platforms with shelters. Amtrak trains provide a picturesque view for passengers riding through or stopping at this small Richmond suburb and college town. The rails run in a median between the two central streets, which are lined with beautiful shade trees and a variety of Colonial Revival and Queen Anne homes, college and commercial buildings.
In June 2022, Amtrak, state and local officials gathered to mark completion of a construction project to improve accessibility and safety at the station. Amtrak, the Federal Railroad Administration, Virginia Passenger Rail Authority and the town partnered to advance a series of improvements including the construction of two brick platforms, placement of two mobile lifts and accompanying canopy. Mobile lifts are available on each platform and benefit all customers with wheeled luggage or strollers, in addition to those passengers who use mobility devices.
Amtrak and the town also collaborated on a redesign of one block of N. Railroad Avenue where the station is located. A new site design allows for a safer experience for customers and pedestrians, and a modified vehicle traffic pattern. The new platforms connect to sidewalks, crosswalks and a pedestrian grade crossing for customers to safely travel between trains and the station.
The current Colonial Revival depot replaced an older structure built in 1890. Designed by W.P. Lee and completed in 1923 by Aubrey Hunt of Ashland, the brick depot stands 1 ½ stories high under a gabled slate roof. A trackside porch supported by four over-sized whitewashed columns provides a pleasant waiting area for Amtrak customers and train enthusiasts who enjoy photographing trains as they pass through town. Benches offer a place to rest, while mature trees close to the building provide cooling shade in the hot Virginia summers. Inside, the Ashland Visitors Center maintains a small museum in one of the former waiting rooms. While the historic building is not listed on the National Register of Historic Places, it is part of Ashland's 159-acre historic district, which received its listing in 1983.
American railroading in Virginia was still in its infancy when the Richmond, Fredericksburg and Potomac (RF&P) Railroad Company purchased a 482-acre tract in Hanover County in 1836, bordering its newly-laid tracks. The line connected Richmond and Fredericksburg, Virginia, with trade terminals on the Potomac River, providing a more efficient means of trade and transport than the previous combination of stagecoach, ferries and steamboat routes. The tract served as a source of lumber and fuel until Edwin Robinson became president of the railroad in 1846. What was then deemed a "slash" (swamp) seemed an unlikely spot for a resort community; but Robinson realized that it was a perfect distance for the popular country picnics of the day, making a pleasant day trip, as well as providing a convenient rest stop for passengers on the line going north and south.
Robinson subsequently invested in building a racecourse at the south end of the city, complete with Jockey Club, grandstand and gambling establishments. Hotels and bars also made this quite a popular resort stop in that period. Other than the railroad-owned facilities, the town hosted two boarding schools. In 1858 the town formally incorporated as Ashland, the name of native son Henry Clay's estate in Lexington, Kentucky. That same year, the Ashland Hotel and Mineral Well Company incorporated to capitalize on the commerce brought in by picnickers and race-goers, buying up land in town.
Very little of antebellum Ashland remains. The Civil War brought economic disaster upon the town, its tourist trade ruined with the termination of travel to the north; and the community saw both battles and officer's balls, being so close to the armed conflicts surrounding Richmond. Post-war depression affected both Ashland and the RF&P, as it did all over the South. The railroad struggled to restore its tracks and rolling stock. In the meantime, the ownership of the Ashland and Mineral Well Company lots passed through several hands and into those of the Randolph-Macon College of Boydton, Virginia, in 1868. The school, which was also suffering from investments in failed Confederate bonds, not to mention the critical loss of its rail link, moved to Ashland for its more central location on the main north-south rail line. This proved a wise move for both the college and the town, restoring economic life to both. In the 1870s and 1880s the college began to erect its own buildings; three of these original four still face the railroad tracks and were placed on the National Register of Historic Places in 1979.
Randolph-Macon was founded in 1830 near the border of North Carolina and Virginia, by the Virginia Methodists. The names of John Randolph, a Virginia statesman, and Nathaniel Macon, a North Carolina statesman, were given to the college to dispel the notion that the school was to be only a sectarian one, as neither man was Methodist. Originally a men's college, Randolph-Macon has a historical relationship with Randolph College—formerly Randolph-Macon Women's College—in Lynchburg, Virginia, which was intended at its founding in 1893 to be the women's counterpart; the two later separated administratively as well to become distinct schools. In 1971, Randolph-Macon became co-educational. (Randolph College became co-educational in 2007.) Today, Randolph-Macon is a respected liberal arts four-year institution with an enrollment of more than 1,200.
Ashland finally saw a building boom in the last quarter of the 19th century and first quarter of the 20th century, following World War I. The RF&P curtailed the sale of spirits in the town in the 1880s and otherwise enticed middle-class families to move there with its new respectability. Ashland also continued to function as a rest stop for passengers traveling between Richmond and Washington. A grand hotel was built, the Henry Clay, and an electric streetcar line was constructed between Ashland and Richmond in 1908.
The town is host to the Strawberry Faire during June, which is the height of the local strawberry season. The festivities include jazz and other concerts and performances, food, vendors, a children's pageant, and of course, strawberries. Ashland continues today as a pleasantly green Richmond suburb and college town, and the community's proximity to Interstate 95 has maintained a strong connection with Richmond-to-Washington travelers.
Northeast Regional service within Virginia is funded in part through grants made available by the Commonwealth of Virginia.