PAOLI, PA. – On Sept. 23, 2019, federal, state and local officials joined together with SEPTA, Amtrak and their honored guests to officially announce the completion of the Paoli Station Accessibility Improvements Project, a $48 million initiative to improve accessibility, safety and provide operational flexibility at the Paoli station.
SEPTA and Amtrak partnered in 2016 to make modifications to the depot and infrastructure at the station to bring the facility into compliance with federal accessibility standards.
"Throughout the duration of this project, we have worked toward a mutual and productive collaboration with SEPTA, PennDOT, the Federal Transit Administration and the Tredyffrin Township community to help transform the Paoli train station into an intermodal facility that is accessible for all," said Amtrak Assistant Vice President for Infrastructure Access and Investment Tom Moritz. "After two years of construction activities, Amtrak and SEPTA have opened the new center platform at the Paoli train station, a major milestone in making the station fully accessible to all users."
Amtrak worked with project partners to advance a series of station enhancements including a new center high level platform, new elevators, stairs and ramps, a pedestrian overpass, parking lot improvements, accessibility improvements to the existing 1953 depot and upgrades in rail infrastructure to support other project components. Vehicular circulation has also been improved in the south, northeast and northwest parking lots.
With the completion of the new upgrades, customers traveling in and out of the Paoli station now board and alight via a new center platform, whose surface is level with the floor of the rail cars. Additionally, the historic outbound wooden canopy that was part of the community's late 19th century depot has been restored and repurposed as a cover for new bike parking facilities.
The Paoli station is served by Amtrak's Keystone Service (Harrisburg-Philadelphia-New York) and Pennsylvanian (Pittsburgh-Philadelphia-New York), SEPTA Regional Rail (Paoli-Thorndale Line) and a half dozen SEPTA bus routes. The Keystone Service and Pennsylvanian are financed primarily through funds made available by the Pennsylvania Department of Transportation.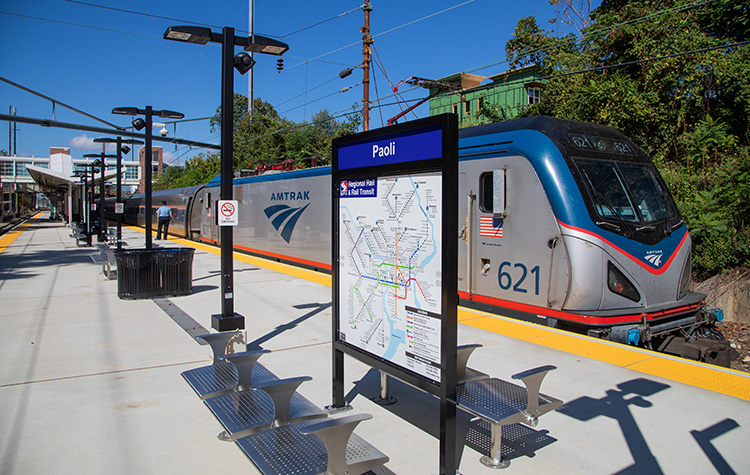 Ideally, this project will encourage potential further construction of the proposed Paoli Intermodal Transportation Center, which is envisioned to serve the growing needs of the traveling public and support the Paoli business district and future expansion of the area.
"For Tredyffrin Township, the completion of this project highlights Tredyffrin's critical role in regional transportation. The updated station also marks the first of future infrastructure, community and transportation improvements that will continue the revitalization of Paoli," said Tredyffrin Township Chair Murph Wysocki.
In fiscal year 2018, 233,816 Amtrak customers and approximately 646,446 SEPTA customers passed through the station.
Images: Amtrak/Marc Glucksman.