DENVER – Denverites gathered at the city's Union Station on Sept. 6, 2019, to unveil the historic "Moffat Loving Cup of Admiration," which will be on long-term display in the building through a partnership among History Colorado, a charitable organization and state agency offering access to Colorado's history through cultural and heritage resources; the Crawford Hotel, which occupies most of Union Station; and ColoRail, a statewide rail advocacy group.
Speakers at the public event included Amtrak Manager Onboard Services John Busbee, ColoRail President James Souby, tourism expert and civic leader Sid Wilson and Dana Crawford, noted local historic preservationist and developer who had the honor of unveiling the Moffat Cup to the crowd.
The nearly three-and-a-half-foot tall silver Moffat Cup was presented in 1904 by Denver's civic leaders to David Halliday Moffat, founder of the Denver, Northwestern & Pacific Railway (DN&P). Moffat planned to build a mainline railway from the Mile-High City west through the Rockies to Salt Lake City, where it could connect with railways to the West Coast. Leading Denverites recognized that Moffat's proposition was risky and expensive – but would also connect the city to the nation's growing rail network.
The DN&P was not finished until after Moffat's death in 1911, and today one of its most famous sections – a 6.2-mile tunnel through the Continental Divide – bears his name. Passengers aboard the daily Amtrak California Zephyr (Chicago-Emeryville) and the seasonal Winter Park Express (Denver-Winter Park Resort) pass through the Moffat Tunnel west of Denver. This engineering marvel, which first welcomed rail traffic in February 1928, made the original DN&P route via Rollins Pass obsolete. It had featured steep grades and a series of switchback loops, and winter weather meant frequent, labor intensive snow removal efforts.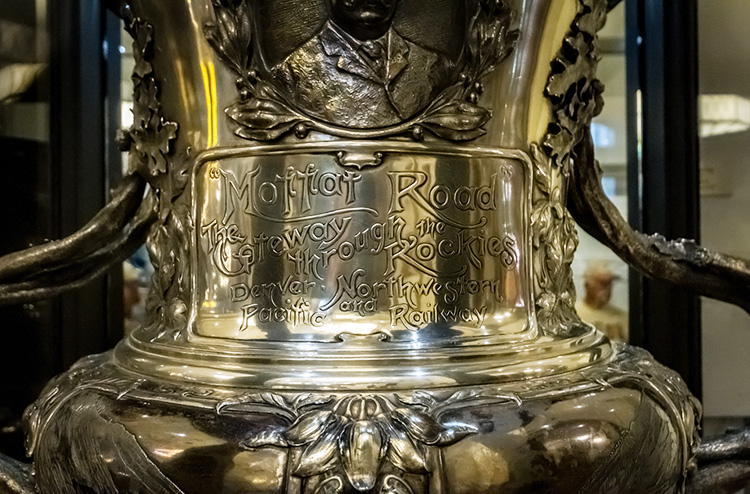 The Moffat Cup, sculpted from nearly 200 pounds of pure silver and sitting on a dark green marble base, was created by the famed Gorham Manufacturing and Silversmiths. Its gleaming surface is etched with many scenes of the natural beauty that Amtrak customers encounter along the railroad, as well as a likeness of Moffat.
Amtrak Conductor Brad Swartzwelter, who is also a member of ColoRail, helped start a campaign in late 2018 to make the cup and its namesake better known to the public. After Moffat's death, the cup ended up in the collection of History Colorado but had not been on display for many years. A small group representing ColoRail, the Crawford Hotel and History Colorado came together to discuss how the cup could be made accessible to the public. The Crawford Hotel offered a location in the majestic Great Hall, but there was no budget for building a secure, custom display case.
Swartzwelter spearheaded a fundraising effort on behalf of ColoRail that raised $14,000: $8,700 crowdsourced online from more than 60 donors and $5,300 through direct donations. The latter included Union Pacific Railroad, which today owns much of the former DN&P. "As a conductor, I witness how the majestic vistas along this line take people's breath away," said Swartzwelter. "The Moffat Cup is truly a priceless gem of Colorado history that must be seen by those who love this beautiful state. It should be located among the people that benefit most from Moffat's grand endeavor – people who ride trains over his road."